my birthday is in two weeks. as usual, i choose the the things i get, thus killing the element of surprise. fret not, for i would rather get something i use rather than something impractical. sure, its the thought that counts. i'm just enchancing the thinking process being the good samitarian that i am (right!).
good and organized people come up with lists. i'm turning twenty-three so its ripe time that i
have a list to prove my organization skills (the extent to which i make endless excuses amaze me too). here goes:
mac mini
vaio tp
my peecee is old and lags like an 80 year old man. i've been contemplating on whether to get a desktop pc or a notebook. i have a macbook at home but i'd much rather use the pc cos its more comfortable to do work, read etc. knowing the pirate that i am, i need something that would weather a shitload of downloads. perhaps, a notebook isn't quite the thing for me but that vaio sure looks nice. my existing lcd works fine so i might get a mac mini but it stores up to 160GB only. don't fret young skywalker, there is another. the sony vaio tp pc has 300GB drive, a 1.83GHz Core 2 Duo Processor and 2GB of 667MHz DDR RAM and has HDMI built-in. boy, is i an excited girl! but like all things unfair in this world, it comes with a hefty price tag.
nike imara keeva
i like casio watches. they're old and new. i dig the gold touch on the nike.
w960i
t650i
since i switched from nokia to sony ericsson, i've been quite the happy customer. this phone is available is red. the specifications are quite the the average and is no better than the phone i'm using now. the other phone i'm eyeing is a t650i in silver and green. this phone has better specs. the w960i is also a consideration. it has the best specs for a sony ericsson so far.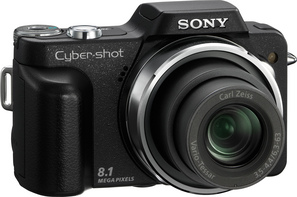 sony dsc h3

some people really dig the small and slim cameras, i don't. while i wouldn't want to carry a bulky slr, i don't mind if the size of my camera is bigger than the new school cameras so that i can afford to meddle with the manual functions. this camera has boastful zooming features, 8.1 megapixels, comes with a 2gb memory card and it's a sony. second to apple is sony! the current camera i have is a sony but i'm having slight problems with the nozzle. my mum has a panasonic lumix but i still dig sony pictures better. personally, i prefer to get sony or canon for a camera. anyway, dsc h3 is available is black and silver. i think it goes without saying that i would choose black.
psp slim n lite
honestly, i would really rather have the nintendo ds lite cos its pretty and more girly. i dig the two screen thingy with the stylus but every tom, dick and harry is telling me to get the sony psp instead. and they're right, a psp is more practical. i want a psp slim n lite in white with a 4gb memory card. thank you!
ipod classic 80gb/160gb
i've always liked apple and the pretty little things they come up with. i think the ipod touch is really sleek and chick but for the same price i can get 4 times the disk space minus the wifi thingy etc. my first ipod was a 20gb and i've downgraded the size of my mp3 players since it went kapoot. i really miss having the space and i did max out the 20 gb when i had it. ideally, i would want the 160 gb because i'm greedy but i suppose its being impractical. so i might just settle for 80gb. i would very much like to replace everything by just having an iphone but its taking too long to come out and it doesn't have a large storage space.
after this, i am adrenalene no longer. do not call me by my slave name. i shall be known as gizmogirl. riiiiiiite.